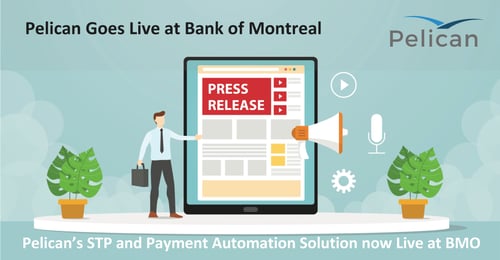 Leading AI technology solutions provider, Pelican, announced today that Bank of Montreal (BMO) has recently gone live with Pelican Intelligent Financial Hub – STP, Pelican's payment analytics, intelligent automation and straight-through processing (STP) solution. The bank and its customers will benefit from enhanced infrastructure and operational payment capabilities.
BMO selected Pelican as a part of its North American payment modernization initiative, which includes payment industry changes to high value payments. As a result of the implementation of Pelican's solution, customers of the bank will benefit from higher STP rates allowing payments to be processed more quickly and reach beneficiary accounts faster.
"Investing in an intelligent payment infrastructure with automation is the right thing to do – now more than ever," said Parth Desai, Founder and CEO of Pelican. "With the ever-increasing processing volumes and innovation in payments, banks need the right mix of technology to offer advanced and intelligent payment processing, as well as innovative solutions to improve their unique capabilities. BMO made the right decision for its customers by choosing to invest in its core payment infrastructure. The benefits will be seen for years to come.".
"Pelican has delivered a comprehensive, intelligent and cost-effective payment enrichment solution that will improve the STP rate, resulting in a reduction of overall manual repairs and a decrease in operational costs," said Derek Vernon, Head, Enterprise Payments Modernization, BMO Financial Group. "Most importantly, it will further enable our commitment to continuous innovation. Pelican's solution meets both current and future business and technology requirements and will help us quickly evolve future capabilities."
Pelican's solution continuously improves straight through processing, allowing financial institutions to target a 95%+ rate in their STP capabilities, with the ability to support both current and future SWIFT message formats. The AI and Natural Language Processing (NLP) based technologies will help organizations achieve higher STP processing goals, reduce manual processing and provide the modern payment infrastructure needed to adapt to new messaging standards such as ISO 20022 for both domestic and cross border payments.
For more information, visit www.pelican.ai
Media enquiries:
Pelican Marketing Department
+44 (0) 20 8947 7200
About Pelican

Pelican has pioneered the practical application of Artificial Intelligence technology for over twenty years. Pelican provides banks and corporates with solutions that enhance, streamline and secure the payments lifecycle, partnering with customers to deliver innovative and agile solutions and drive growth. To date, Pelican has enabled outstanding efficiency benefits and increased speed to market for customers in over 55 countries, processing more than one billion transactions worth over US$5 trillion. Pelican is a global company with offices in New York, London, Dubai, Mumbai and Hong Kong.
Pelican offers a full range of payment and compliance solutions, covering every operational and regulatory aspect. Pelican uses NLP, ML, and AI to enable high levels of automation and rich intuitive interfaces for management of payments, with self-learning capabilities. Together, the solutions offer an intelligent way to manage processes and meet objectives by leveraging the latest technologies.